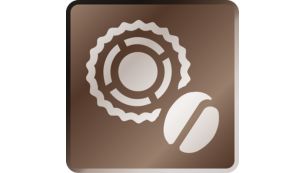 Coffee without burnt taste thanks to 100% ceramic grinders
This espresso machine is equipped 100% ceramic grinders. Saeco uses ceramic grinders because of their consistent grind without overheating the coffee bean for an impeccable espresso. Ceramic also ensures long-lasting performance and a totally silent operation.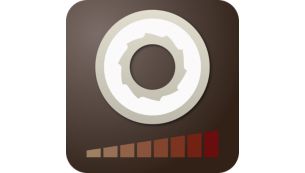 Play with the coffee's richness with our adjustable grinders
Different coffee blends require different levels of granularity for the full flavor to unfold. The grind granularity of this espresso machine can be adjusted in 8 settings, from the finest grind, for a full bodied espresso, to the coarsest, for a lighter coffee.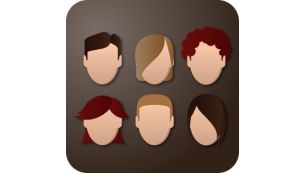 Personalize your coffee in 6 user profiles
This Saeco espresso machine comes with 6 customizable profiles that memorize your personal preference for different coffee drinks. This makes it very easy to get a perfect tailor-made cup of coffee although you are not the only one using the machine.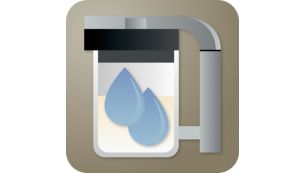 Hygienic milk frothing thanks to automated dual cleaning
This Saeco espresso machine comes with a fully automated dual clean function for its milk carafe. The dual cleaning uses two independent steam cycles to swiftly rinse your milk carafe after each coffee drink you prepare, for a fresh milk drink everytime. Hygienic milk frothing was never this easy.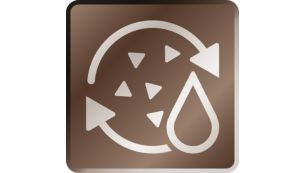 Always a clean machine thanks to auto-clean and descaling
Saeco designed this espresso machine to automatically clean its coffee circuit with water upon starting up or switching off of the machine, this delivers a great, fresh taste with each cup of coffee. Regular descaling prolongs your espresso machine's life. This machine will not only prompt when descaling is needed, the automated descaling process will start on your machine and guides you with clear on-screen messages when you have to intervene. Descaling has never been so easy!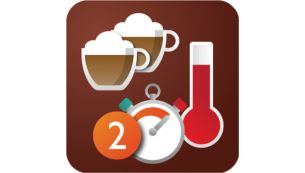 Milk specialties without the wait thanks to a double boiler
With 2 separate heating systems to cater for both the optimal coffee or milk frothing temperatures, this Saeco fully automatic espresso machine guarantees professional performance and speed everytime. You are able to prepare as many latte macchiatos and cappuccinos as you wish, one after the other and each just as good as the previous without waiting.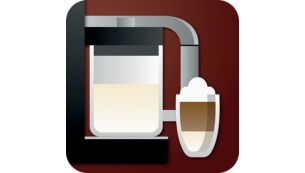 Perfect milk froth thanks to the integrated milk carafe
Enjoy your milk specialties with the automated milk carafe with auto-clean. Simply pour milk into the carafe, plug it into the machine and select your preferred coffee drink. Whether it is a latte macchiato, cappuccino or caffelatte, your drink will be served within seconds. The carafe of your Saeco espresso machine conviently comes with auto-clean, which means two automatic steam-rinsing cycles will clean your carafe's tubes after every use for a fresh milk taste everytime.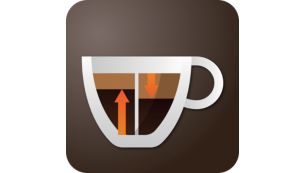 Boost coffee crema and body
This Saeco features our patented crema and body boost. This dial, conveniently located at your machine's spout, allows you to smoothly adjust the counter pressure changing your espresso's body and crema. Try it yourself and find your favorite taste.
.
Boiler material Stainless steel (Inox)

Number of water boilers 2 boilers (instant steam)

Water pressure in pump 15 bar (perfect espresso)

Supported coffee types: Ground coffee Whole coffee beans

Country of origin

Made in Italy

Designed in Italy

Removable brewing group Yes

Power 1500  W
.
Please note this is a factory second product, fully tested by qualified technician, it might have minor marks or scratches. Photos of the actual unit will be provided upon request
.
STANDARD DELIVERY & INSTALLATION:
We welcome pay on pick up directly from our four Sydney Stores. Please contact us for prior arrangements if you wish to do so.
All items are usually dispatched from our warehouse within 1-5 working days of receiving cleared payment
We offer you added peace of mind by having every item insured against loss, damage and theft whilst in transit ( No extra charge)
We offers direct shipping to your door using various carriers depending on items and your location: Toll IPEC, TNT or Allied Express ,Couriers Please and Australia Post
Customers will be provided a tracking number once items have been dispatched
Delivery times will be vary depending on your location. Please allow up to 10 working days to receive your goods but normally it will be sooner.
.
Buy with confidence with 100% Buyer Protection
No matter where you shop, we'll keep your financial information private and protected