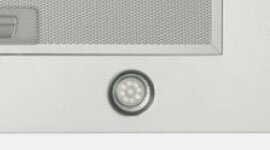 High performance extraction motor
High performance extraction motor rapidly removes steam, smoke and cooking smells from your kitchen. Three-speed switch lets you select the fan strength you ever need. With significant improved performance of the new motor, unit has top performance of 850 m3 /hr air
Thermal overload switch
Thermal overload function that senses extreme heat and disconnects power to the motor. If you have a cooking disaster, and something catches fire, the rangehood automatically switches off to prevent flames and sparks being sucked into the ducting or ceiling.
LED lights
Light Emitting Diode (LED) lights are very energy efficient. They generate hardly any heat, which means that nearly all the energy they consume is turned into light. They also last a long time – up to 50,000 hours (that's about 50 times longer than your average incandescent bulb). The bright white glow of LED lights is shining an eco-friendly path to the future.
Recirculation option
In situations where ducting isn't possible, your rangehood can be fitted with charcoal filters that effectively cleanse the air before returning it to the kitchen.
Multi-layered micromesh filters
Multi-layered micromesh filters effectively trap grease. They're simple to remove and are easily maintained with a regular clean in the dishwasher.
Completely hidden from view
This strong performer is designed to stay entirely out of sight. It's as much at home in authentically historic kitchens as it is in the ultra modern. The RPB is also a favourite with people who love a clean uninterrupted look to their home.
.
Size Range 52cm to 53cm
Finish Colour       White
Finish Colour Description
Stainless steel fascia panel with white body
Height (mm)       280 mm
Width (mm)        518 mm
Depth (mm)     284 mm
Rangehood Type      Undermount
Will fit a standard 600mm cupboard
3 x Speed centrifugal motor
2 x LED lamps
Triple layered micro mesh washable filters
Recirculation option through top ducting outlet
If ducting, please select suitable ducting kit from our Accessories tab
If recirculating, please select carbon filters and recirculation kit from our Accessories
Maximum current rating  10 Amps
Length of cord                  1.3 m
240 Volt, 50Hz
.
12 MONTHS SYDNEY ON SITE WARRANTY
.
STANDARD DELIVERY & INSTALLATION:
We welcome pay on pick up directly from our four Sydney Stores. Please contact us for prior arrangements if you wish to do so.
All items are usually dispatched from our warehouse within 1-5 working days of receiving cleared payment
We offer you added peace of mind by having every item insured against loss, damage and theft whilst in transit ( No extra charge)
We offers direct shipping to your door using various carriers depending on items and your location: Toll IPEC, TNT or Allied Express ,Couriers Please and Australia Post
Customers will be provided a tracking number once items have been dispatched
Delivery times will be vary depending on your location. Please allow up to 10 working days to receive your goods but normally it will be sooner.
.
Buy with confidence with 100% Buyer Protection
No matter where you shop, we'll keep your financial information private and protected